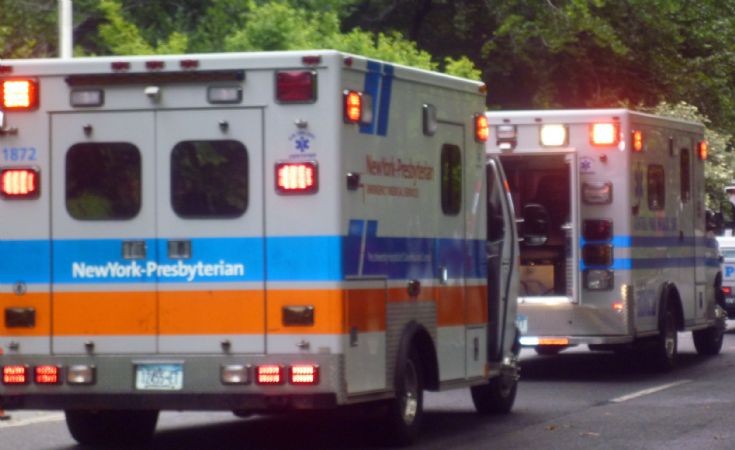 LT refuses to ride with me unless he is recovering from anesthesia. In our twenty years together he has been my passenger six times.
Do not jump to the conclusion that what I am secretly doing in Florida is gearing up for the  Daytona 500. LT's simple response to anyone who asks why he will not ride with me is, "Ridgely drives like an old lady." This disclaimer followed me through my career as a Paramedic.
You cannot imagine the burden I carry when I am behind the wheel. What do you think LT would say if I came home with a speeding ticket? I never want to find out. I certainly would not tell an officer after pulling me over with lights and sirens that  LT is my husband.  Jonas' wife, Molly, of The Unit told the officer who pulled her over that she married the last police officer who stopped her.
I think it was my driving skills that first caught LT's eye. He says he fell in love the moment I stepped out of ambulance. We met on an emergency call. I was an EMT (Emergency Medical Technician) at the time. As it was was a call related to a criminal act, LT responded along with numerous other officers.
A two person team responds to all 911 medical emergency calls. One person is a paramedic, one an EMT. If a patient requires advanced life support, e.g. EKG monitoring, IV starting or drug administration, a paramedic must take care of the patient on the way to the hospital.
In this case, the patient had been stabbed. Needing to replace fluids, my Paramedic partner started an IV and prepared to take care of the patient during transport to the hospital.. Yes,  I had to drive to the hospital. I remember my partner saying these three things to me repeatedly,  Ridgely :
"If we are going lights and sirens, we need to at least be going the speed limit"
"Take control of the intersection: you have the right of way."
"You do remember the way to County Hospital, right?"
None of these comments even address changing lanes or backing up. When I share these scenarios with friends, they admit they never considered the EMT might get lost on the way to the hospital.
No, before you ask, I never did get lost , but now you know why I went to Paramedic school. I would gladly ride with any patient if it would keep me out of the driver's seat.
So, anytime I get a little scared of a traffic situation, I think back on my days sitting behind the steering wheel of an ambulance. Immediately the scenario I am facing is insignificant.
note to readers: This is the first in series about my life as a Paramedic.
ambulancephoto.com